Pricing is not set, subject to change once inventory is depleted.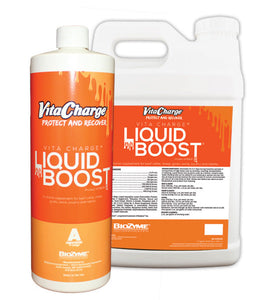 Biozyme Vita Charge Liquid Boost
Liquid Boost is for show pigs and is an extremely versatile, convenient liquid supplement for animals of all species that supports digestive health and promotes feed and water intake during times of stress and recovery. It works in the presence of and does not interfere with antibiotics. Its palatable flavoring helps create consistency in taste of any water source.
When to Use Vita Charge Liquid Boost?
During transition periods such as receiving and commingling, hauling, at shows or if pigs become sick or go off feed.
Vita Charge Liquid Boost Comes in Two Formulas:
2.5 gallon jug
32 oz bottle
Can be administered via a medicator, mixed with water, used as a drench or top-dressed on feed.
Swine:
Over 270 lb.: 5 oz. per head, per day
100 to 270 lb.: 3.5 oz per head, per day
50 to 99 lb.: 2 oz. per head, per day
Under 50 lb.: 0.5 oz. per head, per day

Medicator:
Use full strength as stock solution with medicator set at 1:128. This equals 1 oz. per gallon of water consumed.
---
We Also Recommend