Pricing is not set, subject to change once inventory is depleted.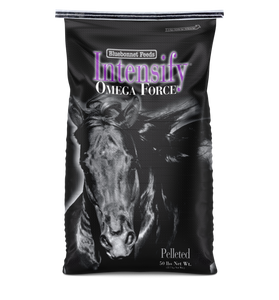 Bluebonnet Feeds Intensify® Omega Force® Horse Feed
Lower feeding rates reduce chances of colic and gastric disturbances for your horse, but they also result in lower feed costs for you!
Contains

 

Stride 101

 

Supplement.
Probiotics and yeast culture are included at guaranteed levels for excellent digestive health.
"True Name" ingredient listing shows the specific names of the ingredients in this feed.
Elevated levels of Vitamin E for anti-oxidant support.
Contains reduced carbohydrate and starch levels.
Contains "Cool Energy" calories from premium fat sources rich in omega fatty acids.
Kelp seaweed meal is included for increased micronutrient support.
Critical amino acids, trace minerals and vitamin levels are guaranteed on the label.
Contains organic minerals and organic selenium yeast.
INGREDIENTS: Dehydrated Alfalfa Meal, Wheat Middlings, Rice Bran, Soybean Oil, Rice Hulls, Flax Seed, Dried Plain Beet Pulp, Dried Cane Molasses, Lignin Sulfonate, Calcium Carbonate, Salt, Dried Seaweed Meal, Monocalcium Phosphate, Condensed Grain Fermentation Solubles, Yeast Culture, Yeast Extract, Hydrated Sodium Calcium Aluminosilicate, Kelp Meal, Chromium Propionate, Magnesium Oxide, Fish Oil, Fenugreek, Sodium Bicarbonate, Active Dry Yeast, Dried Green Algae Meal, Dried Bacillus subtilis Fermentation Product, Dried Lactobacillus Acidophilus Fermentation Product, Dried Lactobacillus Casei Fermentation Product, Dried Bifido Bacterium Thermophilum Fermentation Product, Dried Enterococcus Faecium Fermentation Product, Dried Aspergillus Oryzae Fermentation Product, Dried Bacillus Licheniformis Fermentation Product, Dried Trichoderma Longibrachiatum Fermentation Extract, Dried Bacillus Subtilis Fermentation Extract, Dried Aspergillus Oryzae Fermentation Extract, Dried Aspergillus Niger Fermentation Extract, L-Threonine, Vitamin E Supplement, Zinc Methionine Complex, Copper Lysine Complex, Manganese Methionine Complex, Cobalt Glucoheptonate, Zinc Sulfate, Manganous Oxide, Ascorbic Acid (Source of Vitamin C), Selenium Yeast, Yucca Schidigera Extract, Mineral Oil, Biotin, Vitamin D3 Supplement, Thiamine Mononitrate, Vitamin B12 Supplement, D-Calcium Pantothenate, Vitamin A Supplement, Riboflavin Supplement, L-Lysine, DL-Methionine, L-Tryptophan, (Propionic Acid, Ethoxyquin (as preservatives)), Ethylenediamine Dihydroiodide, Pyridoxine Hydrochloride, Natural & Artificial Flavors. Contains a source of live (viable) naturally occurring microorganisms.
GUARANTEED ANALYSIS
Crude Protein Min 12.00% Salt Max 1.25% Lysine Min 0.80% Magnesium Min 0.45% Methionine Min 0.25% Potassium Min 0.80% Cysteine Min 0.21% Copper Min 85 ppm Threonine Min 0.50% Zinc Min 300 ppm Tryptophan Min 0.20% Manganese Min 300 ppm Crude Fat Min 12.00% Cobalt Min 8 ppm Crude Fiber Max 12.00% Selenium Min 0.85 ppm ADF Max 18.00% Chromium Min 0.80 ppm NDF Max 30.00% Vitamin A Min 7,500 IU/lb Starch Max 10.00% Vitamin D Min 1050 IU/lb Sugar Max 5.00% Vitamin E Min 165 IU/lb Calcium Min 1.35% Vitamin B12 Min 25 mcg/lb Calcium Max 1.85% Riboflavin (B2) Min 7.00 mg/lb Phosphorus Min 0.70% Thiamine (B1) Min 15.00 mg/lb Salt Min 0.75% Biotin Min 1.50 mg/lb Ascorbic Acid Min 50 mg/lb
---
We Also Recommend