Pricing is not set, subject to change once inventory is depleted.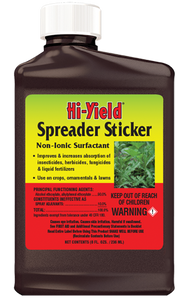 Hi-Yield SPREADER STICKER
A water soluble spray additive that makes water wetter and increases absorption, translocation and sticking of pesticides. Low foaming and contains no oil. 


Application Rates:

1 to 2 teaspoons per gallon of water when mixed with insecticides, miticides, fungicides, liquid fertilizers and herbicides.
---
We Also Recommend