Pricing is not set, subject to change once inventory is depleted.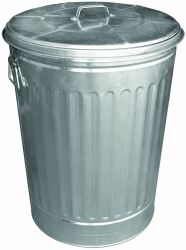 Little Giant Galvanized Garbage Can
These metal trash cans are indispensable on any farm or ranch. Besides their primary function, they're unmatched for keeping feed, seed, and pet foods fresh and free from pests. Heavy-duty galvanized construction prevents rust and corrosion.
10 Gallons Measures 15.63 inch diameter by 17.75 inch high, holds 10 gallons.
20 Gallons Measures 
18.88 inch diameter by 24 inch high, holds 20 gallons. 
31 Gallons Measures 
21.75 inch diameter by 27.5 inch high, holds 31 gallons. 
---
We Also Recommend