Pricing is not set, subject to change once inventory is depleted.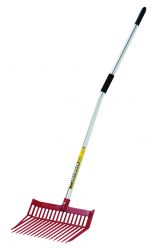 Little Giant Plastic DuraFork with Ergonomic Handle
This bedding fork features a lightweight, 52 inch anodized aluminum handle that is pre-bent at an ergonomic handle to help reduce back strain, along with a foam hand grip and foam-covered end. Fork head is manufactured from extra-strong 100 percent polycarbonate to provide super strength and flexibility. Designed for long-lasting use around the farm, ranch, and home. Specially designed tines are uniquely angled to provide easy manure pickup with less spilling. Nylon locknut secures the handle. The red fork head is 13.125 inch long by 15.125 inch wide.
---
We Also Recommend