Pricing is not set, subject to change once inventory is depleted.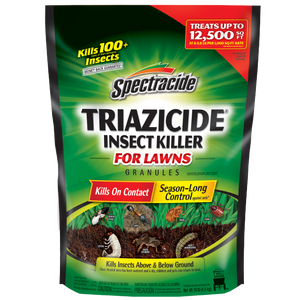 SPECTRUM BRANDS, INC SPECTRACIDE® TRIAZICIDE® INSECT KILLER FOR LAWNS GRANULES
Spectracide Triazicide Insect Killer For Lawns Granules kills 100+ types of lawn-damaging as listed. It kills insects on contact above and below the ground, including ants, crickets, centipedes, pill bugs, fleas and grubs. Apply with a broadcast or rotary spreader to the lawn. It is formulated for broad-spectrum control of insects in home lawns, spot treatment and for use as a barrier band treatment around your home.
Kills on contact plus season-long control against ants*
Kills 100+ types of lawn-damaging insects as listed 
Once treated area has been watered and is dry, children and pets can return to lawn
Kills insects above and below ground
10 lbs treats up to 12,500 sq ft; 20 lbs treats up to 25,000 sq ft
*Excluding harvester and pharaoh ants
---
We Also Recommend