Pricing is not set, subject to change once inventory is depleted.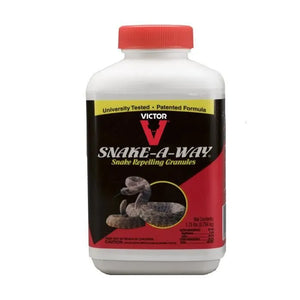 Woodstream Victor® Snake-A-Way® Snake Repelling Granules
Victor® Snake-A-Way® contains a unique formula that is third-party tested and effective against even the toughest snakes. This long-lasting snake repellent can be used to repel rattlesnakes and garter snakes from areas around houses, cabins, trailers, garages, flowerbeds, and more.
EPA-registered granules repel venomous and non-venomous snakes
Lasts 2 to 3 months after application
Apply around the perimeter of area you want to protect
91% repellent rate of garter snakes and rattlesnakes
Temporarily disrupts snakes' sensory reception without harm
Contains Naphthalene (7%) and Sulfur (28%)
Covers up to 0.2 acre
---
We Also Recommend