Pricing is not set, subject to change once inventory is depleted.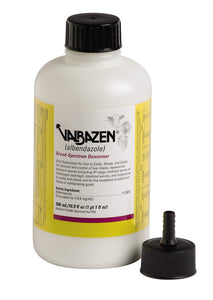 Zoetis Valbazen Suspension Broad-Spectrum Dewormer
VALBAZEN® Suspension is the only drench dewormer that controls Cooperia spp., Ostertagia ostertagi and liver flukes. VALBAZEN Suspension is used to control internal parasites including tapeworms, liver flukes and more inhibited or larval forms of stomach worms than other oral drench dewormers.*
VALBAZEN Suspension offers the broadest parasite control in the oral drench dewormer category with 25 different parasites and larval stages covered.
---
We Also Recommend